Yes, larger projects that might be funded - $50,000 or $100,000 projects. For example, one I'm working on - which is pretty cool - is a mining company gave National Parks $100,000 to do up some facilities in Minerva Hills National Park, which is out near Springsure, out near Carnarvon Gorge. We basically could do what we want with this money - not so much on infrastructure, but on things for the public... So signage, barbecues, we've got some interpretive shelters with some little kids activities, some lookout signage. So right up my alley. I love it. It's good fun.
Sounds good. So you've been here for twenty years. Had you ever been to Girraween before you started working here?
I actually hadn't. My first day I started working was on the 19th of August, 1996. I was little Brisbane girl, originally from New Zealand, but I did my schooling in Brisbane, so I had no idea that there were these cold places in Queensland. So I rocked up with just a shirt and jeans and froze my ... off the evening before. And I walked out of the barracks, which is where I stayed the night before. I walked out, and on my very first day, it's snowing. [Laughs.]
Really?
Yeah. So I had to borrow some clothes from the guys and, yes, I soon learned that Girraween is one of the coldest places in Queensland.
Well, welcome to Giraween! I'll snow on you! So how did you come about working here?
I went on a guided walk training course in Brisbane... Oh hang on, I should take you back. I went to Uni.. I did the Gatton course that Brett talked about... So I went to Gatton Uni when I was twenty-four - it was in 1994 and 1995 and I had gone back as a mature-aged student. I wasn't terribly mature, but I was aged! [Laughs.]
You'd reached a point in your life where you realised this is what I want to do?
I had no idea before that. I was in hospitality way before that. I knew that I loved working with people, but in the hospitality industry, it was just, yeah, not my cup of tea. It was actually a night in Cape Tribulation that did it for me. It was kind of my turning point. We were sort of lying down looking up at the trees and the stars. You know, possums and birds and owls and things all around and me sort of saying... and yes, this was after a couple of drinks... saying I really love nature. I wish I could do more. And so, at that stage I started looking for courses and the best I could come up with was the Wildnerness and Wildlife Associate Diploma at Gatton Uni.
And that's two years?
That's the two years, yep. It was very practical. There were a lot of hands-on type subjects, but there was also some theory as well that went with it. And it just gave you a really good touch of what jobs you could sort of dabble in if you wanted to work in the environment.
When I was at uni, you had to do placement, so I kind of played around. I worked with Totally Wild for a week. I went to the Northern Territory and worked in a National Park there. I helped the Koala Foundation out with a wildlife survey. So all these different things because I didn't quite know what I wanted to do. It was when I was in the Northern Territory and helped out with some interpretive work - taking people on guided walks and interpreting the environment - that I thought this is probably where I should be because I do love people and I love trying to encourage people also to love what I do. So I kind of went from there.
So yeah, I did this two day guided walk training course in Brisbane and I met the Ranger in Charge of Girraween from that time there. His name was John Moye. I kind of said to him after a couple of days getting to know him, what do I need to do? I was at the time working in Gondwana Wildlife Sanctuary - I worked there while I was at uni.. Yeah, I said to him, I wanted to get out of the city and I wanted to get into National Parks, what do I need to do? And he said, well look, I've got ten weeks work available, because the girl that was in my job now, was going on leave. And he said, if you want it, it's yours. I can make it happen. So I asked my boss at the time if I could have ten weeks off work. He said no, so I said, ok I quit. [Laughs.]
I packed my car up, packed my dog in with me and off we went... We came and I worked the ten weeks, then I stayed on as a Volunteer for a couple more months. I did some cherry picking to pay my way. The girl that came back to her job decided then she was going to move to Brisbane and make a family. So eventually John got permission to put somebody on until they filled the position. He was able to put me on, which was great, and then they advertised the position. I was up against about eighty other people and I got the job, which was pretty cool. It was the highlight of my life really, getting a job as a ranger.
You obviously love it. You've been doing it for so long.
Oh, yeah. I do. You can kind of tell. Twenty years here, you know. I'm captivated by this place. I mean I do love other National Parks, but this place is in my blood. You know, I love it and will probably be here until I'm eighty.
[Both laugh.]
And they'll probably let you stay, too. Um... So who were you working with over the years?
Ok, so John Moye, he was the Ranger in Charge - acting - at the time. And then there was Glen and Ian Elms, so they're the twin brothers that took on from Bill and Hock, back in the eighties. So yeah, we were the main ones and we had some temporary rangers that would come along as well. Stubbie eventually left and so did John.
I, at some stage in there, acted as Ranger in Charge for - pretty much on and off in my career - I've probably filled in for about three years. I just missed working with Brett. He had already moved to Toowoomba, so he's always been my District Ranger or Senior Ranger. I have a lovely connection with Brett. I have lots of admiration for him. He's a really good boss, yeah.
So John Moye, then we had Peter Lindsay, we've had Jamie Seeleither... There was a stack of people that have been in that position I guess.
My favourite Ranger in Charge of all time is John Cowburn. He came along and he was with us for ten years. A great man. Done some amazing things for the park and just a really good bloke to work for and with. We had a really good team in that decade. We've had Justin and Karl join. And Neal... I can't remember the order, I think Neal came along first and then Justin and Karl... I guess that's the best team I've ever worked with. We just have such respect for each other and really look after each other. Especially in this type of job, you know? You are in life-threatening situations and when you can look at who's driving beside you and you can trust that person will look after you, then that's pretty cool.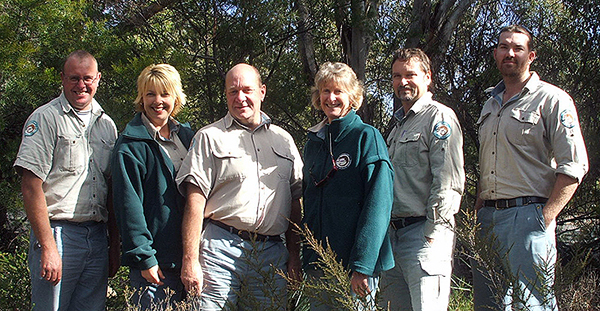 The 2010 team of Girraween Rangers - from left to right:
Karl Braund, Jolene McLellan, John Cowburn (now retired), Sue Smith, Neal Holmes, Justin Wheatley.
I can understand that totally, yeah.
And we've got a good team now. We've got a larger team, that's for sure...
Did you say, there's eight people?
Yeah. So we have Greg on board. We have Peter - he's our second in charge. We have Neal and Justin, Karl, Steven, myself, Sue and Ian.
So two ladies?
So there's nine of us... Sue's a casual. Yeah, two ladies. Sue and I, we actually share a position.
From all the names you've mentioned, the majority have been men. Are there many women in the National Parks service?
Well, I wouldn't say it was fifty fifty, but there are some women and a lot of women are in managerial-type positions. You know, the authorative postitions. I guess out in the field we are probably a bit limited in numbers, yeah. Men seemed to be more attracted to these types of jobs, but in saying that, I mean, in the Central Region there's a lot more females than males. So it does differ.
I suppose it just depends what people are interested in doing.
Yeah. I guess in my region it's hard because there's a lot of remote parks, so you know, you have got to have a pretty thick skin to be out in those parks. It makes it hard if you've got family, it makes it hard if you're a single person wanting to seek a mate... You know?
Yeah. You've got to see that rangers are human beings. They have lives.
They do, they do.
So you've said some of the things you do. What other sort of duties do you do here?
So, a day in the life of Jo at the moment is... Unfortunately, a lot of it is sitting in the office doing projects. Planning and following through... But it's cool stuff. Like I mean, for this project that I talked about with Minerva Hills, I'm designing ten signs. So, you know, it's cool. You get to be creative and think about some new products that you can use and that sort of thing.